I first dipped my toes into a lake aged 13 in the midst of my pool swimming career at the Midlands Open Water Swimming Championships and I surprised myself by doing a lot better than expected! I upped my distance to 5ks and went on to be the Great Britain Women's 5km Grand Prix Champion and was subsequently selected to swim as part of the Great Britain Open Water team in 2006.
I trained as a swimming teacher in 2007 and I have taught every level in the pool from beginners to honours challenge, as well as teaching beginner and improver adult classes.
Following some time out of the competitive swimming scene due to a period of poor mental health, I missed a part of me. I found Cliff Lakes who helped me learn to love swimming again. I decided to complete my coaching qualifications, in addition to the swimming teaching qualifications I already held and joined the coaching team there. I formed the Winter Swimming Club and learned with our swimmers how to both swim in skins throughout the winter months and also how to coach swimmers to embrace these colder temperatures.
My fascination for winter swimming and ice swimming was formed when I found the Ice Mile online. I didn't think that I could ever swim for a mile under five degrees in just a swimming costume, hat and goggles. But I could. Twice. Following my ice mile and winning the 1km event at the Great Britain Ice Swimming Championships, I was selected to represent Great Britain in the World Ice Swimming Championships in Murmansk in 2019 and I swam 1km in a swimming pool cut out of the ice at zero degrees. I came 2nd in my age group (25-29) and 8th overall. I also represented Great Britain in the 4×250 freestyle relay.
In the World Winter Swimming Championships in Bled in February 2020 and I came 3rd in the 200m freestyle, 2nd in the 100 freestyle and 5th in the 1km event in a very competitive Age Group B.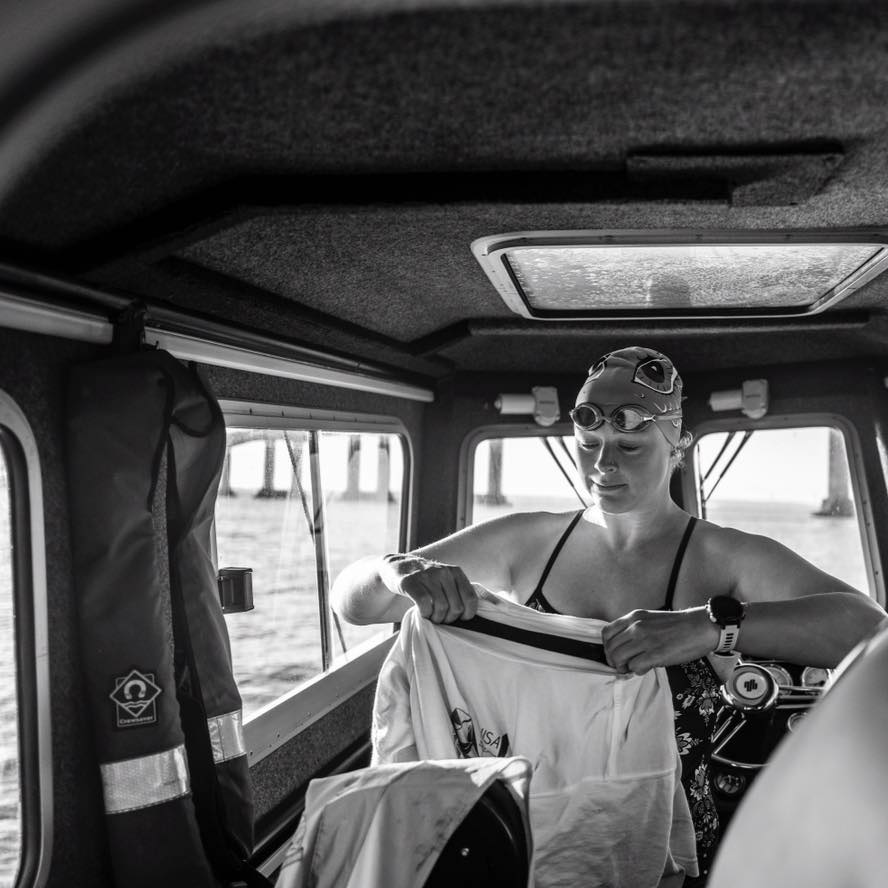 The Outdoor Swimming Company was started by Caroline Saxon who has a well-established swimming CV.
In 2022, I represented Great Britain in the World Ice Swimming Championships in Glogow. Poland. I won my age group (30-34) for the 500m and 1km events, as well as breaking the age group World Record and overall British Record. I placed 3rd overall in the 500m, and in GB's 4x250m freestyle relay we placed 3rd overall. 
I also swim in the summer and I have completed many longer distance swims. I was part of a trio who pioneered a route in the Bristol Channel from the Prince of Wales Bridge to Clevedon Pier. I have also swum round St Mary's, Isles of Scilly, completed the Thames Marathon 14km swim four times, and also guided my own long distance routes of the UK rivers and lakes.
In 2021, I established the 3 Peaks 3 Lakes team challenge where we were the first to climb the three highest peaks in Scotland, England and Wales and swam the three longest lakes in 55 hours. 
Over the years, I have helped numerous swimmers from very nervous beginners to Channel Swimmers to competitive triathletes and ice swimmers. I understand what it is like to have irrational fears and how to conquer them. In 2020, I finally defeated my fear of very large waves following a bad experience in my youth. I understand what it feels like to swim in both really warm and icy water, and I empathise with people who are extremely nervous because I have been there.
My swimming dreams are to swim in Antarctica, Argentina and Chile as well as swimming the Bering Strait. I like to pioneer my own routes and swim away from the unusual 'bucket list' swims. Swimming has taken me to some phenomenal places: Bavaria, Montenegro, Albania, Slovenia, Russia, and many beautiful spots around the UK.